Far from the bustle and noise of the city you will enjoy peace and quietness among flowers and hundred-year-old trees, next to the swimming-pool. This former stone-walled farm dates back to 1818 and it is typical of the south west of France. This farm was specialized in the elaboration of the famous prune called pruneau d'Agen. We have entirely restored the place with care and passion, yet it has kept its genuine aspect together with full comfort for our guests. The valley of the river Lot benefits from a particularly mild weather. It is a generous country full of traditions and in complete harmony with nature. It is renowned to be the birth place of the famous dried plum called le pruneau d'Agen. Around the place, you'll be surprised by the numerous medieval walled towns called bastides, old castles and picturesque villages as well as beautiful Romanesque churches. The cottages of Benech are situated in the heart of this priviliged countryside. They nestle on the south side of a peaceful small valley, at the far end of a country path in a pleasant green scenary.
Cottage "Prune"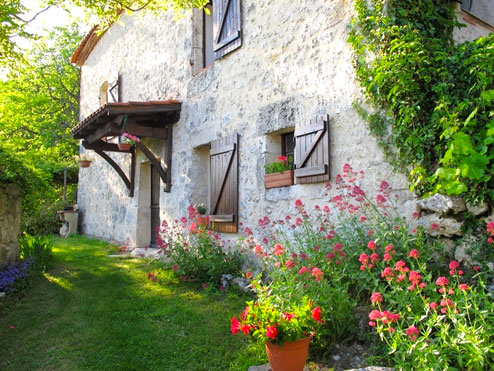 This local stone-walled old farm welcomes as many as six guests on three levels. The house is full of charming details such as : the great genuine antique fire-place, the exposed beams as well as the old sink made of stones. It has got a large sitting room, three bedrooms and a fully equipped kitchen, a bathroom and toilets.
All disinfection measures will be taken to guarantee you a safe stay.
Cottage "Prune" (2 to 6 people)
August 21 to September 04
Cottage "Tilleul" (2 to 4 people)
August 22 to September 05
Ask us for more than a week stay or few days in low season. Water, gas, electricity (56 KW per week) included. A 25 % deposit is required at the reservation. NB : Tourism tax : + 0.30€ per day and per person, except children under 18 years old